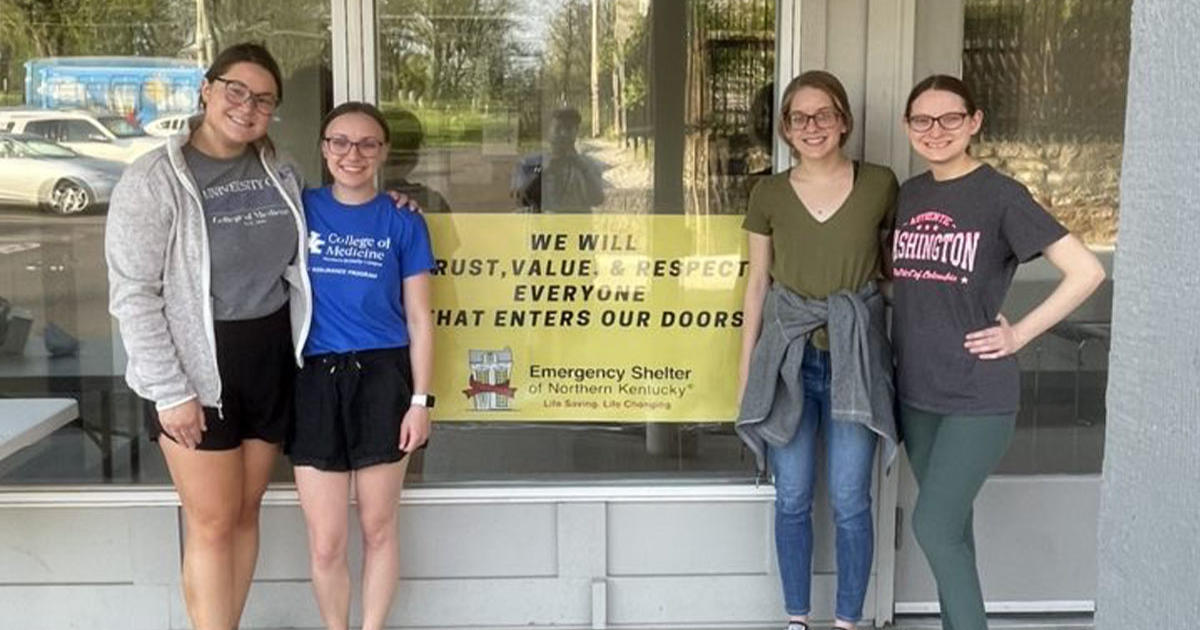 UK College of Medicine-Northern Kentucky Campus opens new clinic at homeless shelter
LEXINGTON, Ky. (May 10, 2022) – Last week the University of Kentucky College of Medicine-Northern Kentucky Campus opened a clinic for basic needs in the newly renovated northern Kentucky emergency shelter.
The clinic is known as CCRU (Compassionate Care Reaching yoU, pronounced "crew"), a meaningful name given by the students who run the program to reflect their true mission.
"We really wanted to create a name to show that we're here for them," said third-year medical student Amanda Schleper, a native of Northern Kentucky. "It's really great that we're all working together for this, to expand medical care to the people who really need it here in my home turf, northern Kentucky."
the University of Kentucky College of Medicine strives to help provide medical students with experiences that allow them to learn about underserved medicine, inequity in health care, and the social determinants of health. At the North Kentucky campus, students and faculty saw a local need for clinical care and jumped at the chance to help.
"We aim to improve the health of this homeless population because homelessness and health are intimately linked," said Holly Danneman, MD, assistant professor at the University of Kentucky College of Medicine-Northern Kentucky and doctor for St. Elizabeth Health Care. "The homeless population tends to have a shorter life expectancy, more emergency department (ER) visits and more frequent hospitalizations. Our hope is not only to improve their overall health, but also to improve the utilization of our healthcare system as a whole.
A large portion of the homeless population goes their entire lives without treatment for chronic health conditions because they do not have access or do not know how to access medical care. That's what makes CCRU so important to this community, says Danneman.
"We bring them the care," Danneman said. "They know where the shelter is, they seek shelter because of the cold or the rain. And while they are here, they will find eager medical students who are willing to provide care for their basic health care needs.
At the CCRU, two beds are set up to serve the guests staying at the shelter. The medical students and their teachers spent the entire semester organizing supplies and getting everything ready and ready for their opening day.
"In our clinic, we are able to offer basic medical care," Schleper said. "So we do checkups, check blood pressure and interview patients to come up with a treatment plan for any issues they might be facing."
The clinic works with a UK GP who works in internal medicine, family medicine or emergency medicine. The doctor gives his time to help these medical students provide appropriate care to these communities in need. The CCRU team also works with local community businesses to help provide comprehensive care.
"We have a current partnership with a local health clinic that can help bring them in the next day to help with medications and chronic conditions," Danneman said. "We also have a partnership with a local pharmacy, Faith Community Pharmacy, which helps provide free medication to those in need."
In terms of on-site medications, the CCRU has over-the-counter medications for anything that needs to be treated immediately with medication, such as acetaminophen or ibuprofen.
And for students, it's already having a big impact on how they think about patient care.
"I would like to go into family medicine," Schepler said. "I really like the part where you can build relationships with patients and help them with whatever issues they may be facing. And I think a free clinic like CCRU really ties into that. Hope our guests will start to feel comfortable with us and will come back regularly."
Schepler says this opportunity is something she's been looking forward to for years.
"I'm thrilled we were able to start this," Schepler said. "As part of the inaugural class at the UK College of Medicine-Northern Kentucky Campus, we came here really hoping we could do something so impactful. The COVID-19 pandemic put a pause on some of the opportunities we were considering in my first year, but now the other third year students and I are excited to finally start making a real impact in our community. of northern Kentucky.
Third-year medical student Christa Mattingly is very committed to their mission and says she looks forward to making a real, long-term impact in this community.
"Treating guests at CCRU will give students like me an appreciation for the medical disparities that directly impact people in our community. We will also learn how to help patients navigate barriers in the health care system," Mattingly said. "Serving at CCRU means changing the stigma and building relationships with a population that is often underserved by the health care system. As students, we are all excited about this opportunity.
Medical students of all levels already find this experience valuable. Zoey Knox, a first-year medical student, believes work experience at CCRU will be an essential part of her education at the UK College of Medicine-Northern Kentucky Campus.
"Serving the homeless population will allow me to witness firsthand the health care disparities and social determinants of health that our community experiences," Knox said. "It will help me deepen my understanding of how best to serve this community in my future practice. And it will allow me to build the basic clinical and communication skills that will be needed for the rest of my career.
To start, the clinic will be open on a rotational basis on Mondays and Wednesdays, with the hope that they will soon be able to operate the clinic at least twice a week. The teachers at the UK College of Medicine-Northern Kentucky Campus could not be more proud of the hard work and dedication these students have shown.
"From the minute they started, these students really took the ball and ran with it," Danneman said. "They've been so eager and excited to get this up and running. It was a wonderful opportunity for me to see them turn this dream into reality. They have handled every detail beautifully, have so much heart and determination, and ensure that this clinic is life changing, not only for the patients we serve, but also for the students who serve them.