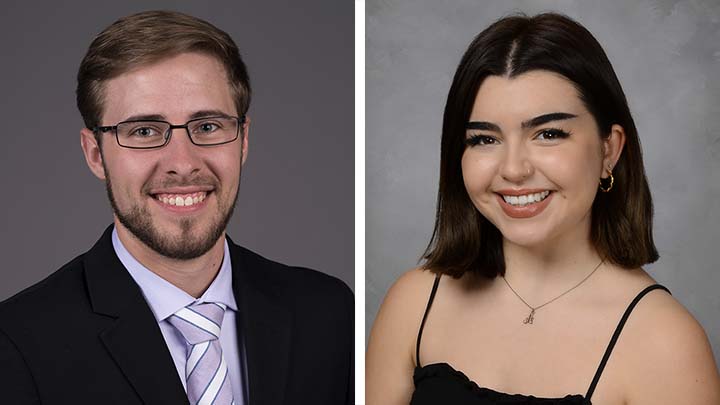 Courtesy of Evann Fowler and Avonlea Grace Benefield
Seven years ago when Denise and Larry Pelham established the Denise and Larry Pelham Pre-Health Fellowship at the University of Alabama at Huntsville (UAH), which is part of the University of Alabama system , they first did it to honor the success of their children while students at UAH. "I thought, we're so lucky and so proud of what they're doing and where they're going. How can I be grateful for this and give back? said Mrs. Pelham.
After attending the annual Scholarship Appreciation Luncheon where the Pelhams met the scholarship recipients, they realized the long-term impacts of philanthropy on UAH and its students. "I enjoyed their [the students'] dynamism and interest. Not all students have had the same education [as my children]says Ms. Pelham. To this day, they and their fellows stay in touch via social media.
This year's Denise and Larry Pelham Pre-Health Fellowship recipients are Avonlea Grace Benefield and Evann Fowler. Benefield is a junior and Fowler is a senior, and both are working toward their Bachelor of Science in Biological Sciences. Both students plan to attend medical school after graduation; Benefield is considering a specialty in trauma or orthopedics, and Fowler plans to focus on family medicine.
The seeds of the Pelham family's philanthropic journey were first sown when her two children, Dr. Samantha Rustamov, PharmD, and Dr. Carter Pelham, MD, chose UAH for their undergraduate degrees despite the possibilities to enroll elsewhere. Ms. Pelham noted that both children were well prepared for the rigors of pharmacy and medical school thanks to their UAH education.
Rustamov started classes while still in high school and initially considered a career in accounting, but after taking classes at UAH she reconsidered. "I realized that I wouldn't get the job satisfaction I wanted if I didn't try to get a pre-health degree and a career as a pharmacist," says Rustamov. While at UAH, she served as president of Alpha Epsilon Delta (AED), was a member of the Delta Zeta sorority, and participated in the pre-professional careers club.
Rustamov credits his organic chemistry classes and lab and working with his Pre-Professional Careers Club mentor for shaping his future plans to pursue his PharmD. Other notable UAH experiences for Rustamov included studying abroad in Rome, an organic chemistry trip to Costa Rica, and service events with AED. After graduating from UAH, she attended Auburn University's Harrison School of Pharmacy and completed her residency at Piedmont Columbus Regional in Columbus, Georgia.
When Dr. Pelham graduated from high school, he had already taken dual-enrollment courses at UAH with the intention of going pre-med once fully enrolled at UAH. "My undergraduate education prepared me in a unique way for the challenges of medical training," he explains, citing specifically the rigorous coursework he took in his organic chemistry, biochemistry, and immunology.
Dr. Pelham earned a double major in biology and chemistry with a minor in piano, which he says provided him with a creative outlet through practice, concerts and ensembles. After graduating from UAH, Dr. Pelham attended the University of Tennessee Health Sciences Center College of Medicine. Since then, he has completed his residency in Chattanooga and Memphis, TN, and he has also completed a fellowship in Neuroradiology in Phoenix, AZ.
Everything came full circle when Dr. Rustamov and Dr. Pelham returned to Huntsville to work and live. Dr. Rustamov joined Huntsville Hospital as a clinical pharmacist, got married, and now has a child. "Huntsville just got better every year I was away," she says, noting that Huntsville offers a growing community with awesome medical and pharmaceutical opportunities.
Despite multiple offers in other cities, Dr. Pelham says Huntsville "would have been a compelling choice even without my family being there." Currently, he is associated with Huntsville Radiology. Huntsville, he says, is a great place to live and work, and it offers excellent opportunities for those who want to practice medicine and radiology. He just got married and he and his new wife just built a house in the same neighborhood where his parents and sister live.
Now, the two Pelham children hope to give back, a plan made all the more important by their parents' decision to create a new Pelham Pre-Health Endowed Scholarship. This gift will continue Pelham's legacy in perpetuity and ensure that pre-health students receive the help they need to succeed.
Dr. Rustamov wants to mentor pre-pharmacy students by collaborating with the Pre-Professional Careers Club. One day, she may want to continue her parents' legacy by donating to UAH. As a local physician, Dr. Pelham has much to offer the pre-health program both as a speaker and as a mentor during job shadowing opportunities. That both children seek to give back to UAH speaks to their experiences as students and a lesson learned from their parents.
"UAH has given our kids the opportunity to stay local and excel," notes Ms. Pelham. "They were both very prepared as young adults and as students for the challenges ahead. Why don't we give back?
---