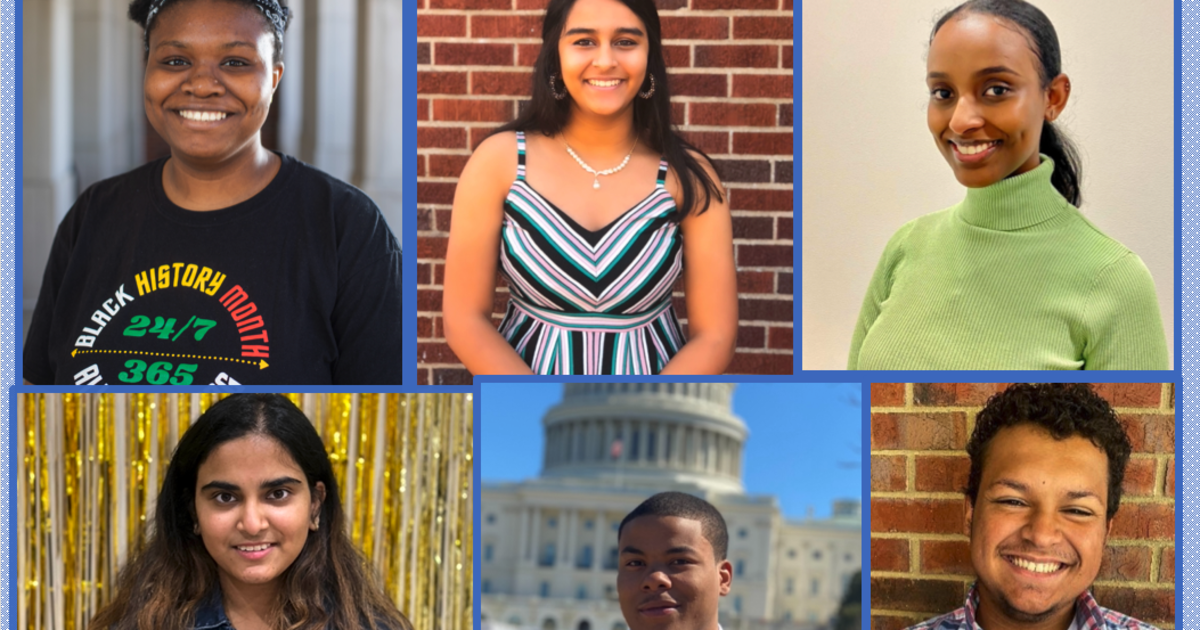 Sparking Change: UK Undergraduate Program for Health Equity Research Expands to KSU
LEXINGTON, Ky. (February 15, 2022) — Now in its third year, the University of Kentucky SPARK (Students participating as Kentucky Research Ambassadors) Program provides an introduction to health equity research for students from backgrounds traditionally underrepresented in research. And there's something special about its new cohort of participants – it includes students not only from the UK, but also from Kentucky State University (KSU).
"From our first two cohorts, we had proof of concept and solid feedback on what worked and what didn't. We thought it was a good time to grow," said SPARK Director Nancy Schoenberg, Ph.D., who also directs the Center for Health Equity Transformation and acts as Associate Director for the Center for Clinical and Translational Sciences. "We need diversity in all respects; partnering with another university broadens the experience of participants from each school.
This new SPARK partnership is perhaps natural: the UK and Kentucky State University are the two Commonwealth land-grant institutions, and the latter is a historically black college/university.
"Undergraduate research is valued in many of our degree programs here at KSU," said Suzette Polson, Ph.D., associate professor of chemistry and SPARK liaison at her institution. "However, we are a small institution and our research focuses on agriculture and aquaculture, with a part on nutrition. Many biology and chemistry majors have health research and career interests, and the SPARK program is a great way for these students to pursue research opportunities more in line with their interests.
Students in the program, known as SPARKlers, often participate in the program as early as their first year of college, gaining critical knowledge about health equity research. With instruction and mentorship from UK experts and community partners, they learn how to design and implement a health equity research project, and then actually carry out the project in their home communities. SPARKlers receive training across the full spectrum of conducting research, from writing a grant application to submitting an application to the Institutional Research Council, to managing a budget, l analysis of data and presentation of their results.
SPARKlers receive a generous stipend for their summer research work, in addition to funding for their research itself. While hands-on experience and building a CV are important for future academic and career prospects, SPARK directors are aware that most students, especially those from less advantaged backgrounds, cannot afford to skip a summer of earning a paycheck.
Building a Legacy
So far, the program appears to be having an impact. Of the inaugural 2019 cohort of three SPARKlers, one now works as a clinical researcher at the Massachusetts General Hospital Alzheimer's Disease Research Center, which they attribute to their experience with SPARK. They presented the results of their SPARK research project at the American Public Health Association's annual conference in October 2021 and plan to pursue doctoral studies in clinical psychology.
Another alumnus is now a student in the Masters of Health Administration program at the UK College of Public Health and works as a clinical research associate at the UK Markey Cancer Center Clinical Research Office; the poster for their SPARK project tied for first place in the 2019 Appalachian Research Days poster contest.
And the third graduate of the first SPARK cohort recently completed an international service project focused on maternal and child health and is applying for admission to medical school. They were also an inaugural member of the NEURO Scholars Fellowship during their time in the SPARK program.
The three SPARKlers in the second cohort (2020) will graduate from the UK in May, and two are preparing to attend graduate school. One of these two students pursued additional independent research and completed an undergraduate thesis in psychology; the other went on to gain an additional research position in the UK focusing on prostate cancer.
The SPARK 2021 cohort
Michael McLeod is among the new SPARKlers and in his freshman year at KSU. He wants to become a doctor since he witnessed his grandfather's experience with bone cancer. McLeod observed dismissive behavior from doctors treating his loved one, who died prematurely.
"I don't want this kind of situation to happen to others, and if I can help even one or two people, it would be worth it," he said.
He applied to KSU's inaugural SPARK cohort because he wanted to better understand how to undertake health equity research and have a comprehensive research experience.
"I'm thinking of doing an MD/Ph.D. and the SPARK program will help me determine now, rather than much later, whether research is right for me or not," he said.
Similar to McLeod, the new SPARKler Princess Magor Agbozo became interested in health equity due to her personal experience. A second-year student at the College of Public Health in the UK, she is originally from Ghana, where she often accompanied a family member on frequent medical visits. Agbozo then spent her high school years in Qatar and was struck by the differences between the two countries' healthcare systems. This led her to take a keen interest in global health and tackle the roots of health equity issues.
"I want to know why these differences exist, how other countries are taking care of their underserved groups, how they're filling gaps in access — I want to get behind the scenes," she said.
She was also drawn to SPARK because she wanted a head start in learning how to conduct research, skills she knows she will need while pursuing her goal of earning a degree in medicine and a master's degree in public health.
"We learn about research ethics, different types of studies, how to write a grant – I know all of these things will be useful for my future," she said.
Also selected for the 2021 SPARK cohort: Meron Lemma (UK), Riya Patel (UK), Jerron Thomas (KSU) and Sairakshitha "Sai" Yalla (UK). Learn more about all the 2021 SPARKlers, including where they're from and what interests them, here.
Beyond doubling the cohort size from three to six and adding a partner university, the SPARK program is also growing behind the scenes. There are more staff and a variety of backgrounds – not just professors but also post-docs, graduate medical/PhD students in the UK. program, guest speakers and an external advisory board.
"We expanded human subject protection training, added a reading group led by an MD/Ph.D. student and started a training called Health Equity 101 which is led by Ariel Arthur, who has a rigorous background on the subject," Schoenberg said.
And because students from traditionally underrepresented backgrounds in universities can easily feel left out at predominantly white institutions, sessions focused on belonging and connection have been added to the curriculum.
None of this, say Schoenberg and Arthur, would be possible without the participation of many talented people, including Madeline Dunfee, MD/Ph.D. candidate, graduate research assistant for SPARK logistics and CITI training; Anna Hansen, MD/Ph.D. Candidate, SPARK Book Club Coordinator; Jessica Thompson, Markey Cancer Center Postdoctoral Fellow and SPARK Research 101 Didactic Course Leader; Brittany Rice, NCI T32 Postdoctoral Fellow and SPARK Enrichment Workshop Leader; Joel Thompson, Ph.D., director of research development for the Center for Clinical and Translational Science; and Elizabeth Rhodus, assistant professor of behavioral science and leader of SPARK's Ethics 101 course.
The SPARK program is a collaboration between the UK Center for Health Equity Transformation (CHET) and the Center for Clinical and Translational Science, with additional support from the UK Cardiovascular Research Priority Area and the Aetna Foundation.