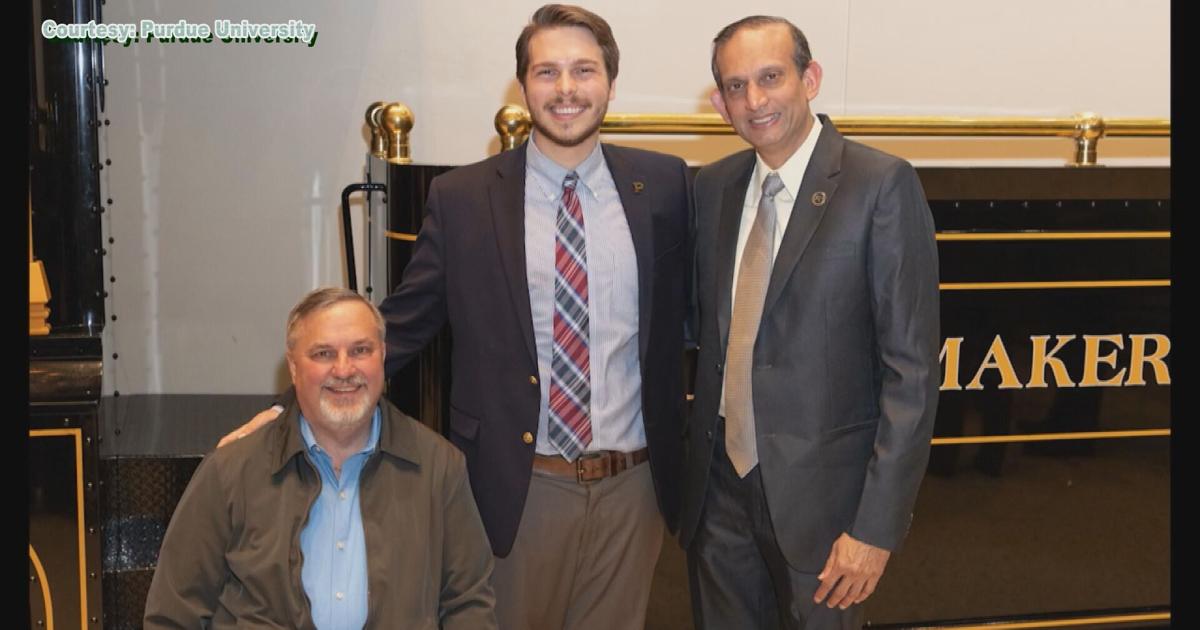 Purdue alum reconnected with doctor at awards banquet | New
WEST LAFAYETTE, Ind. (WLFI) – A recent Purdue University graduate not only received a diploma upon graduation, but he was also surprised.
Logan Noster was born with a condition called omphalocele, which caused his liver to grow outside of his body when he was a newborn.
Doctors at the time realized they could use a new technology called submucosa of the small intestine (SIS) which uses pig intestines for soft tissue repair.
Fast forward to last month.
Logan earned a multidisciplinary engineering degree from Purdue. Little did he know that at an awards banquet earlier in the year, Dr Umesh Patel, a pioneer in his treatment, would be present.
"My mum came to Umesh and said 'Hey, I think my son, I'm pretty sure he's had your treatment.' And that's when we really started talking about it and really started to dive in and make those stronger connections," Noster said.
Dr. Patel happens to be a Purdue alumnus from the same program as Logan.
He was part of a team that researched and developed the technology used for Logan's treatment.
He is now president of Cook Biotech in West Lafayette.
This is this guy who created this technology 30 years ago, this would be when they started working on it, something that helped me when I was a kid," Noster said. "Now to meet him and realize that not only did we go to the same college, but we also studied in the same very small program."
Logan was one of the first infants to receive this treatment which gave him a better quality of life as a child.
The two have gotten to know each other quite a bit since they first met.
Dr. Patel even invited Logan to visit Cook Biotech, where similar research is still underway.
"The reason he invited me was not so much so I could see some cool tech, but it was so his team could see it." Noster said. "Umesh himself has only met, he says, 5 to 10 patients who have received this technology. Over 6 million worldwide, we are not talking only in the United States, but in New Zealand, in Japan and everywhere in between. So it's a global thing, but he's only met a handful of people. The same goes for the rest of his team.