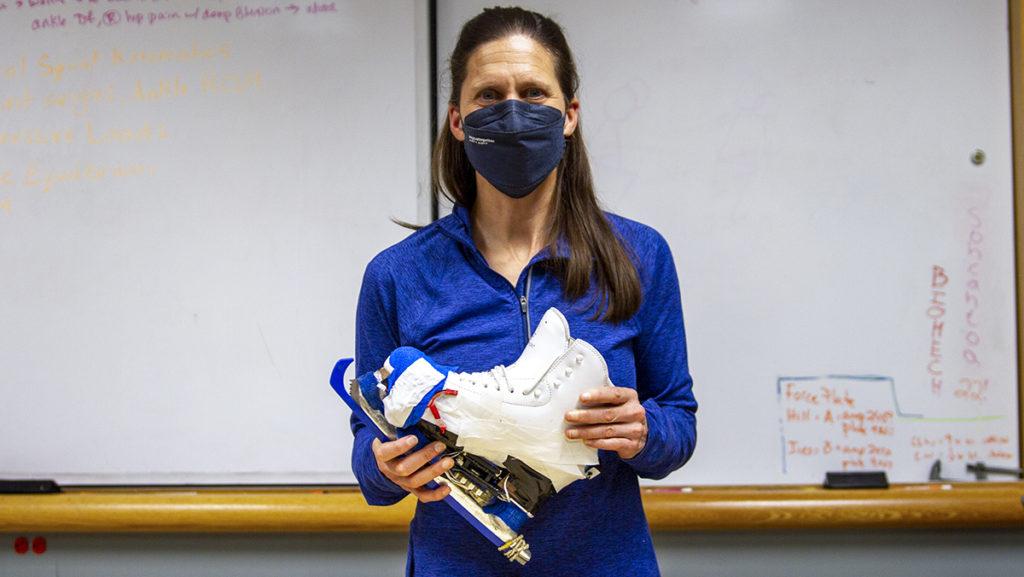 Physics professor meets 'Queer Eye' star Jonathan Van Ness
Deborah King, professor and director of the graduate program in the Department of Exercise Science and Athletic Training, recently had the opportunity to meet Jonathan Van Ness, best known from the Netflix series "Queer Eye: More Than a Makeover," on their podcast, "Becoming Curious with Jonathan Van Ness." The podcast episode, titled "Can Figure Skaters Defy Gravity?" with Dr. Deborah King" released on January 12.
King's area of ​​expertise is the biomechanics of human movement and athletic performance.
This interview has been edited for length and clarity.
THIS: Can you explain what biomechanics is?
DK: It is to study the mechanics of a living system. I look at mechanics as the forces and movement of the human body. It could be sporting events like figure skating, but mechanics would also cover walking, balance, and posture. You can think of strength, conditioning, and weightlifting. These are functional activities as well as athletes and sports skills.
EK: How did the study of biomechanics bring you to figure skating?DK: It wasn't necessarily an intentional run but it worked really well. Towards the end of my masters, I hadn't really decided what I wanted to do, and I think my advisor knew that… so they asked me if I was interested in a research assistant position at the Center Olympic Training Center in Colorado Springs. They used to have positions where they brought masters or doctoral students into the sport science and technology program where they also had staff but also graduate students…you provide sport science services either to athletes who are in residence at the training center or teams who would go through training camps. Our job…was to provide them with video services. We would go over there and videotape all of their skills and then give it back to the coaches… There was a coach there who wanted to do a triple axis research project because that was a time when, in particular for men's individual skating, the triple axis was like the element that burst. … to win a medal at the next Olympics, you really had to have a good triple axel, and there weren't many men doing it yet. We had five skaters at camp, which isn't a lot, who were doing triple axes or learning to do it.
EK: As the Chair of Exercise Science and Sports Training, how often do you practice or teach biomechanics?
DK: Not as often as I would like. Most of the research projects I do now are in the lab, so I haven't been on the ice for several years. Before COVID,…we were working on this figure skating boot [with a computer chip in it] … I had been to the Lansing rink mostly with a Cornell skater because the boot fit her, but we had worked with skaters from the Ithaca College skating club and Cornell skating clubs. … I have a grad student right now and I know she wants to figure skate, so I need someone to do repairs on the boot and maybe she can do it, but we also have other ideas.
EK: How did you get the opportunity to meet Jonathan Van Ness and have this interview with them?
DK: I will say that his producer/executive director, his team, from the series Getting Curious with Jonathan Van Ness contacted me. I guess he knew about the work I did with figure skating. Firstly, because he loves figure skating and he does figure skating, so he pretty much read everything there is to know about figure skating and so he knew my name from some research that I have done.
EK: How did you experience your meeting with Jonathan?
DK: It was hilarious. They actually came to campus at one point, which was pretty cool, and they talked to me. We filmed in the lab where I work, then they contacted me to see if I could do a podcast with them, so we did it via Zoom. He is really enthusiastic, interesting and fun, we just had a wonderful time talking to each other.