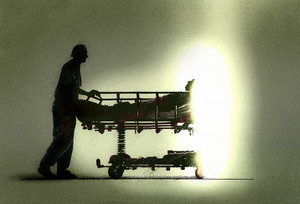 Nearly 8 in 10 Koreans support legalizing euthanasia and physician-assisted suicide
Nearly eight in 10 Koreans support legalizing euthanasia or physician-assisted suicide, according to a poll released Tuesday.
The survey, led by Professor Yoon Young-ho from the Department of Family Medicine at Seoul National University Hospital (SNUH), asked the opinions of 1,000 Koreans aged 19 and older on euthanasia or suicide. attended by a doctor last year.
It revealed that 76.3% approved of legalizing euthanasia or physician-assisted suicide.
Reasons for approval included unnecessary life extension (30.8%), patient's right to die with dignity (26%), pain relief (20.6%), suffering family (14.8%), relief from social charges, such as medical expenses and (4.6%) and that euthanasia or physician-assisted suicide does not violate any human rights (3, 1%).
On the other hand, 23.7% opposed their legalization. Opponents cited respect for life (44.3%), violation of the right to self-determination (15.6%), risk of abusing the system (13.1%), violation of rights of the man (12.2%), the possibility of errors of diagnosis of the doctors (9.7%) and the capacity of recovery (5.1%).
Professor Yoon's team said the result showed an approval rating 1.5 times higher than similar surveys in 2008 and 2016, when just 50% of respondents favored euthanasia and assisted suicide. doctor.
Yoon stressed the need to first consider the situation in which patients want euthanasia before discussing its legalization.
According to the SNUH professor, there are four main reasons for wanting euthanasia: physical pain, psychological depression, social and economic burden and lack of sense of prolonging life.
"The discussion of euthanasia in the direction of true respect for life requires the precondition of 'resolving the physical, mental, social, economic and existential pains of patients,' Professor Yoon said. "To this end , Korea must establish the fund and the foundation to create and institutionalize a well-dying culture."
The International Journal of Environmental Research and Public Health published the result of the study in its latest edition.