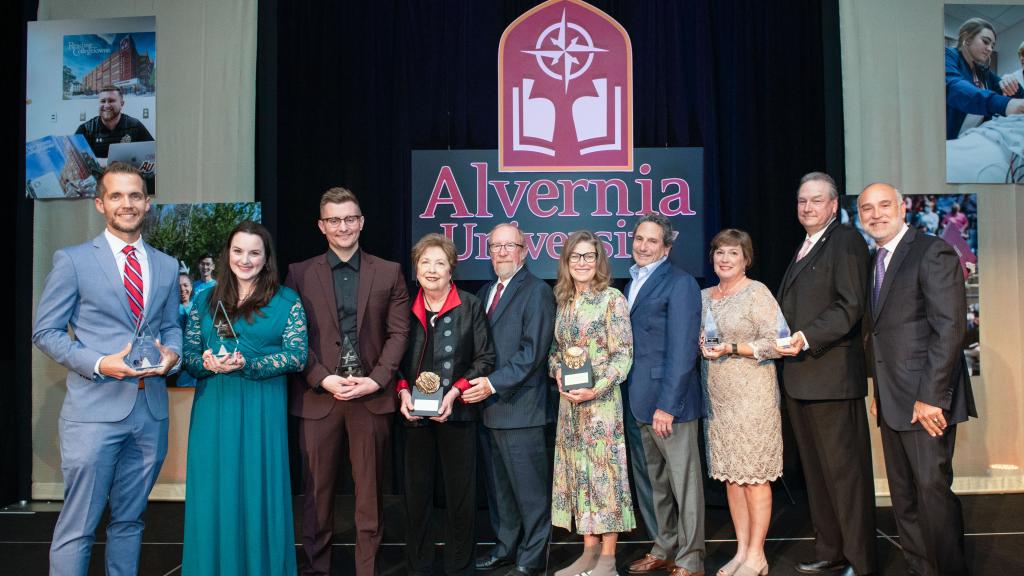 Loyack shares plans for Phase 2 of CollegeTowne at President's dinner
From left to right: Connor Delaney, Kate Ecke, Kyle Levengood, Karen and Gary Rightmire, Sandy Sermon and Doug Messinger, Nadine Blair, Timothy J. Daley, John R. Loyack
Alumni and community leaders earn prestigious accolades
The University of Alvernia presented five of its prestigious awards to alumni and community leaders with ties to downtown Reading during its annual President's Dinner at DoubleTree by Hilton Reading, chaired by John R. Loyack. The winners include Sweet street desserts, Karen and Gary Rightmire, Timothy J. Daley, Nadine Blair, Kate Ecke, Kyle Levengood, Conor Delaney and Brandi Burns.
"The story of Reading CollegeTowne is one of partnership and leaders working together selflessly to improve our community," said the president of the University of Alvernia. John R. Loyack. "Tonight's award winners are excellent ambassadors who provide service, leadership and commitment and represent the past and bright future of the communities of Alvernia and the Reading area."
In his closing remarks, Loyack explained how the education model at Alvernia is evolving into a results-based experiential learning model as well as some student success stories, the early successes of the CollegeTowne initiative, as well as the university's plans for the next phase of the project. Plans for the second phase of CollegeTowne include adding a medical assistant program, updating the nursing program, adding a community clinic, additional engineering tracks, expansion downtown housing and the continued replication of CollegeTowne's strategy in Pottsville.
Sweet Street Desserts accepted the CollegeTowne Awards (formerly Pro Urbe Award) for their important community service and contributions to a higher standard of living for the community of Reading. Founder and CEO Sandy Solmon has led dessert maker from a two-car garage startup to an international dessert powerhouse that bakes for restaurants in over 60 countries on every continent.
"The magnetic field projected by Alvernia has aligned so much entrepreneurial energy in this city; it seems we've found our common compass: a belief in the rebirth of our beloved Downtown Reading," Solmon said. "It's a wonderful city, and we have to shout it from the rooftops to let the world and our neighbors know that Reading is back."
Longtime residents of Berks County and local servant leaders Gary and Karen Rightmire have won the university's coveted Franciscan Award, awarded annually to someone who selflessly gives their time, talents and resources to the good of others and is presented for exceptional service to Alvernia.
"We're old enough to remember when Alvernia was just a small college," said Karen Rightmire. "Look at it today; It is a university. The campus is unrecognizable, enrollment numbers have exploded and our community is incredibly touched by its mission and leadership. Someone once said that happiness is having something to do, something to love and something to look forward to. Gary and I are so lucky to have our family and friends to love, our community work to do, and to hope for the future that brings health and civility to our world. We are very grateful to John and his team for this much appreciated recognition. "
Daley, a longtime Reading Police Officer and current Executive Director of the Berks County Habitat for Humanity, received the Distinguished Alumni Award which recognizes an individual who demonstrates valuable contributions to his profession, his community and nation. Daley has spent his life providing safe neighborhoods, opportunities for families to thrive and empowering others.
"When I graduated from Alvernia I came away with a diploma, which for me at the time was a CV for a job and, just as important, something to hang on the wall to make my mom happy." said Daley. "But the real value of this degree was a reminder that my real education was about to begin. A reminder that I was not a finished product but a shoot that sought to feed itself in order to grow, and it was then that I discovered what my years at Alvernia really taught me, to have a respect for the knowledge for life and a love for learning. I'm standing in front of you tonight not on a stage but rather on the shoulders of all those people in my life who have shown me kindness and were kind enough to lift me up so that I can reach for my star.
Blair, a long-time Alvernia alumnus and volunteer and member of the Alumni Council, received the Ellen Frei Gruber Award, awarded to an individual who has rendered outstanding service to Alvernia, exemplifying the continued commitment and support of the mission of the University of Alvernia and reflects the fundamental values ​​of university service, humility, pacification, contemplation and collegiality.
"The past 19 months have been marked by the challenges of the pandemic; However, in the midst of these challenges, there is hope for a bright future, "said Blair. "The University of Alvernia has given the community great hope by building its footprint at Reading CollegeTowne. Ellen Frei Gruber was also a ray of hope as she demonstrated commitment to service to others and reflected the values ​​of service, love, commitment and self-discipline. Like Ellen Frei Gruber, the University of Alvernia and the Bernardine Sisters have given me the opportunity to grow spiritually in my faith as well as to grow in a commitment of service and charity to others.
The university also recognized its second class of four laureates under the age of forty, including Delaney, founder of The Good Life Companies; Ecke, a licensed clinical social worker specializing in eye movement desensitization retreatment; Levengood, partner of Herbein + Company and Burns, pediatric assistant.