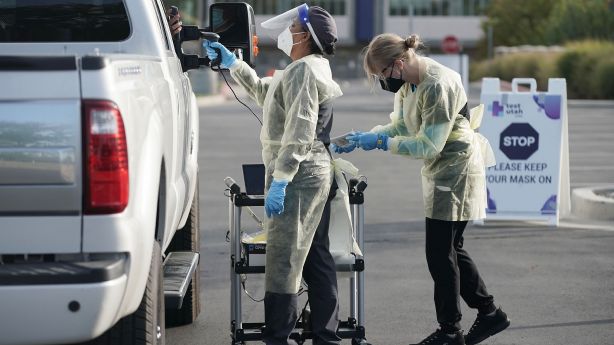 Hospitals are still full, but doctor says vaccination rates and immunity are preparing Utah for a better winter
A person is tested by Nomi Health for COVID-19 in the parking lot at Cottonwood Heights town hall on September 30. While Utah hospitals remain full largely due to high rates of COVID-19, a doctor said on Friday that the state was on the verge of having a better winter than last year due to vaccination rates and natural immunity. (Jeffrey D. Allred, Deseret News)
Estimated reading time: 4-5 minutes
SALT LAKE CITY – Hospitals remain full in Utah largely due to still high rates of COVID-19, but an infectious disease doctor said on Friday the state was on the verge of a better winter than last year due to vaccination rates and natural immunity.
Statewide data shows state is experiencing a "high plateau" of cases, Dr. Eddie Stenehjem, infectious disease physician at Intermountain Medical Center, told a news conference Virtual.
"We are not seeing this rapid drop that we were hoping to see," he said.
The Utah Department of Health on Friday confirmed 1,619 new cases of COVID-19 and 10 new deaths, four of which occurred before October. The seven-day moving average for positive tests is now 1,397 per day, and an average of 15.9% of all people tested result in positive cases, which is in the same zone as the week's averages last.
Health care executives, however, hope to see a "slow and continued decline" in cases over the next month to six weeks.
An optimistic sign is that the number of patients entering clinics and hospitals with COVID-like illnesses is starting to decline, he said, which means cases could start to drop within about two weeks.
"But right now I think we are in a period of stability where our hospitals are completely full, our intensive care units are at their maximum capacity and we are still seeing a very significant number of COVID cases in our hospitals," according to Stenehjem.
He said that between 80% and 90% of COVID-19 hospital patients, depending on the day, are not vaccinated. Those who are fully vaccinated are on average 20 years older than unvaccinated patients, Stenehjem said, and they have medical comorbidities.
In St. George, Dr. Edward Prince, orthopedic surgeon and medical director of surgical services at St. George Regional Hospital, said the situation was so bad that the hospital had to stop taking some transfers and cancel some. elective but important surgeries.
The hospital is at nearly 100% of its capacity on any given day, Prince said, and the delays in surgery led to a patient who needed heart bypass surgery to die before he could receive it.
The capacity problem in St. George continues to be due to shortages of nurses rather than rooms, Prince said.
Despite the current pressure on hospitals, there is cause for optimism, according to Stenehjem. He pointed out that the state is in a different situation as winter approaches this year compared to last year. Now we have vaccines widely available "and a very, very effective vaccine",
Well over 60% of eligible people have been fully vaccinated, and many more have been infected with COVID-19 "and also have some level of protection," Stenehjem said.
He said this winter, the state has a population overall less susceptible to the disease than last year.
Latest data from Utah
School-aged children accounted for 329 of Friday's cases – 177 cases were between 5 and 10 years old, 78 cases were between 11 and 13 years old and 74 cases were between 14 and 17 years old, according to the Department of Health of Utah.
Health workers statewide have administered an additional 13,417 doses of the vaccine, including booster shots, since the previous day's report. This brings the total doses administered in Utah to 3,656,641.
In the past 28 days, unvaccinated residents faced 14.6 times the risk of dying from COVID-19, 10.8 times the risk of hospitalization, and 5.5 times the risk of positive tests for COVID-19 than those vaccinated, health officials said.
As of February 1, unvaccinated people are 8.7 times more likely to die from COVID-19, 7.5 times more likely to be hospitalized from the disease, and 3.8 times more likely to test positive for COVID-19 than those vaccinated, state data shows.
Of the cases reported on Friday, 408 were considered "breakthroughs," meaning they were among patients who had been fully vaccinated more than two weeks before testing positive. The state also confirmed 12 other landmark hospitalizations and four breakthrough deaths.
State health officials and doctors have noted that receiving the vaccine doesn't mean someone won't get the coronavirus, but in most cases, it protects against serious illness. The vaccine also does not cause a person to contract COVID-19.
Since the vaccines became available to the public earlier this year, the state has confirmed 25,459 breakthrough cases out of the total of 538,895 positive cases since the start of the pandemic, just under 5% of all case. Utah health officials have also confirmed 1,256 breakthrough hospitalizations and 175 breakthrough deaths.
The latest deaths include:
A Box Elder County woman, 65-84, a resident of a long-term care facility.
A man from Box Elder County, 65-84, hospitalized.
A woman from Carbon County, 45-64, hospitalized.
Davis County man, 65-84, hospitalized.
A man from Iron County, 65-84, a resident of a long-term care facility.
A woman from Salt Lake County, aged 65 to 84, a resident of a long-term care facility.
Two women from Salt Lake County, over the age of 85, residing in a long-term care facility.
A man from Utah County, over 85, a resident of a long-term care facility.
A man from Utah County, aged 65 to 84, hospitalized.
×
Related stories
More stories that might interest you