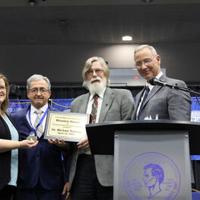 history teacher awarded the LMU's highest distinction | Education
Lincoln Memorial University (LMU) Vice President for Academic Affairs W. Mark Tew presented the prestigious Houston Award for Teaching Excellence to history professor Michael Toomey, PhD. The award was presented at LMU's annual Student Awards and Recognition Night on April 19.
The Houston Award honors faculty who have demonstrated exemplary professional teaching achievement characterized by a clear, abundant, and persistent demonstration of high standards of teaching. A member of the faculty at the Paul V. Hamilton School of Arts, Humanities and Social Sciences since 2008, Toomey has risen through the ranks from assistant professor to full professor and served as assistant dean of the school for the past five years. He is also chairman of the Department of Humanities and Fine Arts. He served on the Registration Management and Coordinating Committee as well as the Fundraising Review Committee.
"Dr. Toomey is an excellent teacher and is very popular with students," Lincoln professor of history and historian Charles Hubbard said in the nomination papers. "In addition to his teaching responsibilities, he has served as an advisor to the History Club and other student organizations.He works closely with students as a teacher and advisor.He encourages and contributes to the collegial atmosphere of the Paul V. Hamilton School of Arts, Humanities and Social Sciences.
Toomey runs the Lincoln Life and Legacy program that all LMU students must complete. In this role he produced the book In His Words, Readings from the Life of Abraham Lincoln (Kendal-Hint Publishers, 2014). The textbook is used by hundreds of LMU students enrolled in Lincoln 100.
"Dr. Toomey's leadership was critical to the success of LMU's Lincoln Courses," says Associate Professor of English Jacques Debrot. "These courses are unique to the University and have shaped its core identity and highest ideals. "
Toomy has contributed numerous peer-reviewed book chapters, articles, and professional presentations. His research and teaching interests include American frontier history, Tennessee history, Native American history, and Appalachian history. He has worked closely on projects with renowned academics, including Dr. Earl Hess, Professor Emeritus at LMU.
Prior to joining the LMU faculty, Hess served as editor of the Journal of East Tennessee History from 1999 to 2010 and curator of history for the East Tennessee Historical Society from 1999 to 2007. He served as associate professor of history at the Knoxville College from 1991 to 1999 and served as Dean of Academic Affairs from 1997 to 1999. Toomey began his career as an associate professor in the history department at the University of Tennessee.
He was also a panelist for the Public Programs Division of the National Endowment for Humanities. Toomey was a historical consultant for television productions including "Who Do You Think You Are?" and "The Mysterious Lost State of Franklin". He is a member of the East Tennessee Historical Society, Tennessee Historical Society, Southern Historical Association, and American Historical Association.