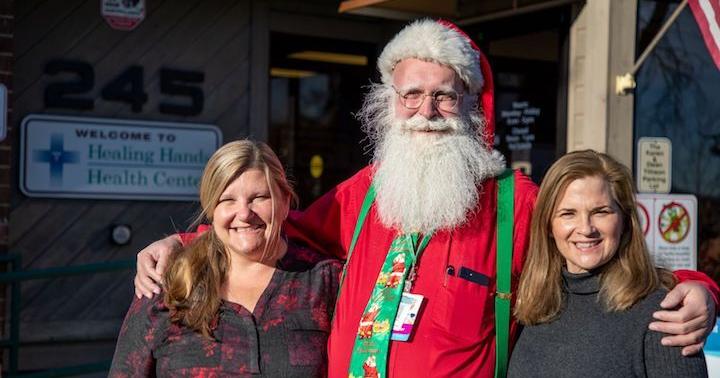 ETSU Health Partners with Healing Hands to Provide Medical Care to Those in Need | Sunday Stories
BRISTOL – ETSU Health's Bristol Family Medicine Clinic is providing even more healthcare to low-income and uninsured people through a partnership with the Healing Hands Health Center.
Healing Hands, located at 245 Midway Medical Park, is a charitable medical and dental clinic providing care to adults in northeastern Tennessee and southwestern Virginia.
East Tennessee State University has partnered with the clinic for 17 years through free medical shows and for almost two decades through dental hygiene clinic rotations.
In August, ETSU Health's Family Medicine Bristol clinic expanded the partnership, sending providers to Healing Hands every Wednesday.
Healing Hands CEO Helen Scott said the partnership enables them to serve more people in need.
"Our partnership with ETSU Health Family Medicine is such a blessing," Scott said. "Most of our medical patients come to us with many chronic conditions, including diabetes and high blood pressure. ETSU providers educate patients and help control chronic disease, which keeps our patients out of emergencies, allows them to continue working, and helps them lead healthier lives.
The Director of Rural and Community Family Medicine Programs, Dr. Amanda Stoltz, was instrumental in establishing the partnership. She described it as a natural adjunct to ETSU's Quillen College of Medicine's mission of providing community-based medical education and improving health in rural southern Appalachians.
"My goal is for this partnership to encourage our family medicine residents to include charitable care in their future practices," said Stoltz.
Dr Laura Helmly, program director at Family Medicine Bristol, said the partnership also benefits providers.
"This provides fantastic learning for our residents on how to take care of people without having to navigate the frustrations of insurance and be able to provide quality care to those who need it," Helmly said. "Healing Hands does an incredible job for our community. We continue to develop ideas on how to better help, and we look forward to continuing this partnership. "