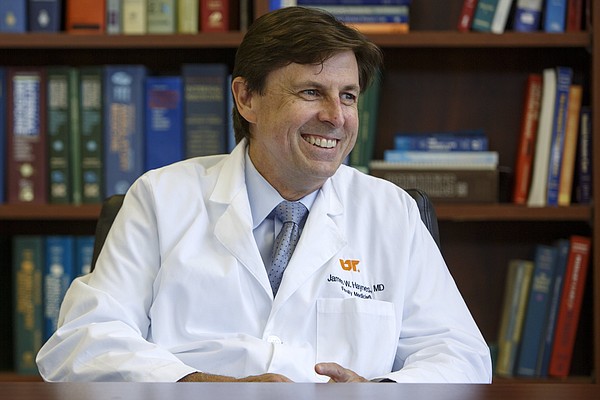 Dr. James Haynes named Dean of UT College of Medicine-Chattanooga
Chattanooga-based family physician Dr. James Haynes has been named dean of the University of Tennessee College of Medicine at Chattanooga after serving as acting dean since December 2021.
In a press release from the University of Tennessee Health Sciences Center, Haynes listed several priorities for his new role, including adding graduate medical education positions, expanding health care initiatives in rural setting and leveraging the region's infrastructure and academic resources to help strengthen affiliated hospitals.
It also aims to enhance faculty development, provide junior faculty with a clear path for academic growth and advancement, and partner with the community to improve the health of citizens of the Chattanooga area, according to the release. .
(READ MORE: Erlanger's transition to a private, not-for-profit removes another hurdle)
"I am grateful for this opportunity and believe we have a bright future here," Haynes said in the statement.
Haynes has taught in the field of graduate medical education for more than 20 years and has served as chair of the Chattanooga Department of Family Medicine since 2019. He holds an MBA from the University of Tennessee at Knoxville.
(READ MORE: James Haynes receives Champions of Health Care physician/academic award)
In addition to his contributions to academic medicine, Haynes is a more than 20-year Air Force veteran and past president of the Chattanooga-Hamilton County Medical Society.
Haynes is "a fantastic leader, who seeks to grow the UTHSC College of Medicine by building bridges with all of our relevant stakeholders," said Scott Strome, executive dean of the Health Science Center College of Medicine at the University of Tennessee, in the press release.
"Our future is incredibly bright with Dr. Haynes at the helm in Chattanooga."
(READ MORE: Proposed Erlanger North mental health hospital won't need prior state approval under new Tennessee law)
The College of Medicine-Chattanooga includes 400 faculty members, about 190 residents and fellows, and about 250 students, who rotate annually for training, according to the release. The college has been affiliated with the Erlanger health system for 50 years.
Contact Elizabeth Fite at [email protected] or 423-757-6673. Follow her on Twitter @ecfite.