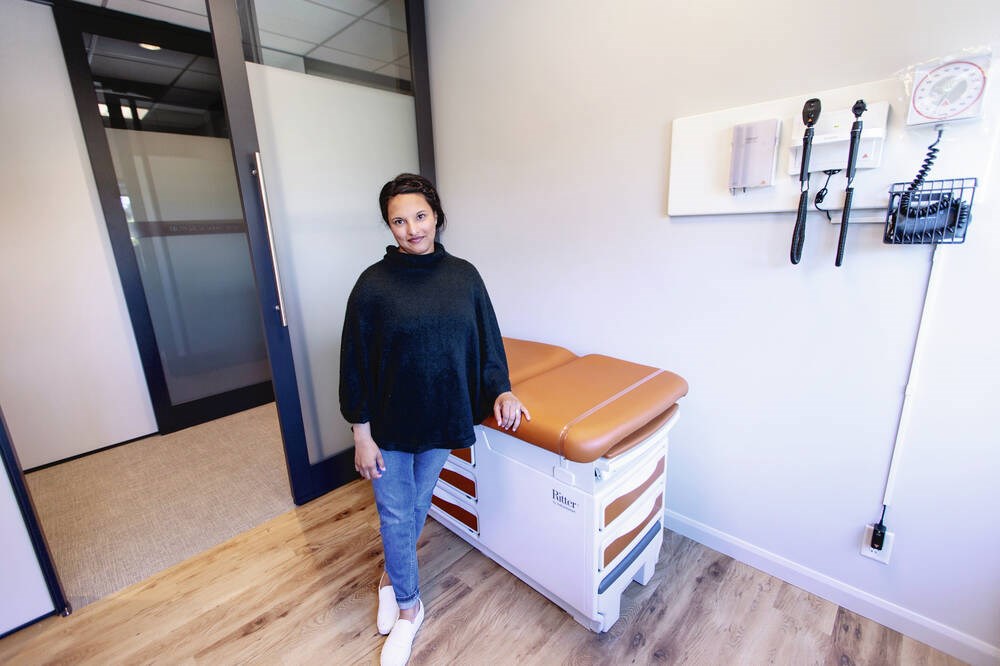 Another medical clinic in Greater Victoria charges monthly fees to patients
Beta Therapeutics in Royal Oak announces it is accepting new patients from November 1, charging a monthly fee of $110 – based on an annual cost of $1,320
Another family practice clinic in the capital region is set to charge patients an annual fee for its services, provided by doctors who are not registered with the public medical services scheme.
Beta Therapeutics in Royal Oak is accepting new patients starting Nov. 1, charging a monthly fee of $110 — based on an annual cost of $1,320 — for its "family practice membership."
Clinic director Samantha Rocha said the clinic, on West Saanich Road, chose to charge a fee "out of necessity", adding that it was difficult to maintain a family practice in Victoria, "where running costs are prohibitive even for the most established firms".
"We have strived to balance the needs of all parties involved," she said. "We hope our model can provide access to comprehensive care for patients, while creating a sustainable practice for primary care providers with a greater emphasis on work-life balance.
The clinic, originally established in 2019, will start with a family doctor, Dr. Dan Cutfeet, who came to the west coast from Ontario in 2010 and works in Alert Bay.
Beta Therapeutics says patients will be hooked up to a nurse practitioner or family doctor in Victoria and will be entitled to 15, 20 and 30 minute consultations, the ability to book appointments online and "all the typical services that you would see in a doctor's office or walk-in clinic.
The clinic aims to see patients within a week of requests.
Beta Therapeutics hopes that $110 per person per month is more affordable than "concierge or executive medicine options," Rocha said, adding that some people have told him they'll budget for those costs given the importance of the service.
Physicians licensed by the College of Physicians and Surgeons of BC have a few billing options. They can enroll in the Medical Services Plan and bill MSP directly for patient services, or they can enroll but bill patients directly for MSP rates, leaving patients the option of seeking reimbursement from MSP.
Physicians can also choose not to register with the MSP or to opt out and bill patients directly. In general, patients cannot claim reimbursement from MSP for the services of a physician who is not enrolled in the plan.
Less than 0.1% of family physicians opt out of MSP, and while the Department of Health has said it hasn't had much experience with this scenario, it says it "isn't concerned that delisting MSP poses a risk to our public health system at this time.
The ministry said it expects all physicians to comply with the Canada Health Act and the Medicare Protection Act. "The Medical Services Commission is aware of the concerns regarding the fees charged by Beta Therapeutics and is following up as appropriate," the ministry said in a statement.
Beta Therapeutics' decision follows an announcement by Saanich physician Dr. Perpetua Nkechi Nwosu of Perpetual Health Center in Shelbourne Street that it will charge patients an annual fee of $1,500 – waived for children of patients – from 1 November.
Some of Nwosu's patients said they can't or won't pay the fees, while others say they will because they don't want to lose their family doctor.
Like Beta Therapeutics' family physician, Nwosu opts out of MSP.
Premier John Horgan was asked at a media event in Langford on Wednesday about unsubscribing doctors and charging fees.
While he didn't say anything specific about doctors billing patients, Horgan said the province continues to work with the federal government to "reinvent health care so we can meet the challenges of a aging population, which includes physicians".
"Of course, I'm concerned about the challenges we face in delivering public health services in Canada, not just in British Columbia," Horgan said.
About a million people in British Columbia who want a family doctor say they can't find one, including about 100,000 in the south of the island.
Horgan said there were more doctors aged 70 or older in the south of the island than in any other part of the country.
The province is working with the Doctors of BC on recruitment and retention of family doctors, new ways to compensate doctors and plans to retain older doctors to mentor new ones, Horgan said.
BC physicians and the province are currently negotiating a new physician framework agreement that is expected to be announced in late fall.
Horgan said he was encouraged to see doctors working with the Department of Health to find solutions to overhead, training and retention issues. Ottawa needs to work with the provinces on a human resources strategy, "because we can't keep poaching other parts of the country," he said.
Last month, the province and Doctors of BC announced $118 million in temporary stabilization funding for family physicians in private practice and medical clinics to help with operational costs. Applications are open now and funding is available between October 1 and January 31, 2023, amounting to approximately $25,000 per physician.
Beta Therapeutics calls temporary funding a welcome first step in addressing the state of primary care in British Columbia
"The reality is, however, that these funds are not bringing positive change for patients who are currently unattached to a family physician and have been for some time now," Rocha said.