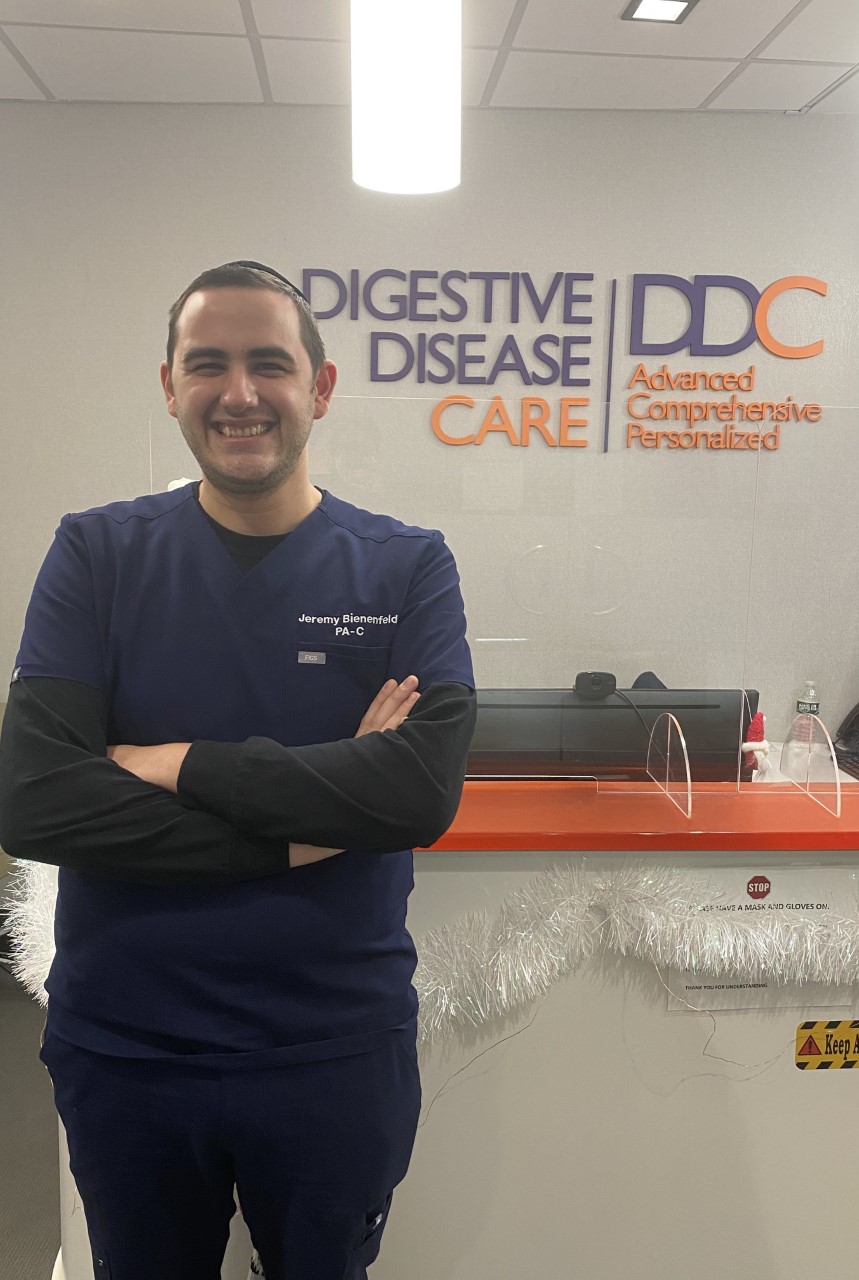 A Day in the Life of a Gastroenterology PA
Touro School of Health Sciences alumnus Jeremy Bienenfeld
Why are you passionate about a career in the medical field?
I knew from a young age that I wanted to do something to help people improve their health. Growing up, I watched my dad who is a podiatrist, and the way he cared for his patients and envied the relationships he built with them. I chose to pursue a career as a Physician Assistant because I felt the role offered me the opportunity to develop meaningful connections with patients while serving as an essential member of the healthcare team.
I love working in gastroenterology because I get to see different diseases in many vital organs of the body ranging from the esophagus, stomach, small intestine, large intestine and rectum. I feel like I am making a difference in this area on a daily basis as my patients come to me for answers that may explain their symptoms and I have the opportunity to engage in preventative care by screening patients for colon, stomach or esophageal cancer. I also advise them on diet and nutritional health, which can improve overall health as well as cardiovascular health, and more.
Can you tell us a bit about what a day looks like in your role as PA at Digestive Disease Care?
After completing my clinical rotation in gastro, I knew that was where I wanted to work. Although I only started in this role a few months ago, a typical day is to check any lab or imaging work done before an appointment to see if anything urgent needs to be passed on. to the patient. I look at the schedule to see the list of upcoming patient appointments and see how many consultations and follow-ups we have scheduled. We usually have a team meeting every morning with our office manager to discuss which exam rooms will be used for which team and which medical assistants we will be working with, and then we get to work to start seeing our patients.
When meeting with a patient, I take detailed notes about their chief complaint, discuss their medical history, and hear about their current medication regimen. It is very important to examine all of my patients' bodily problems to obtain the most accurate history. I then create a care plan with the patients and discuss it with them to make sure the patient and the provider are on the same page. This is crucial because the patient is the most important person in the care team. If I have any questions, I will ask them to our attending physicians. The doctor will then enter the room to reiterate the plan and we will discuss it as a full team with the patient concerned.
What specific skills did you learn in the Touro classroom that you now use as a practicing PA?
I'm so grateful to have gone to Touro PA school in Manhattan. I have interacted with many students from various PA schools during my rotations, and have seen that Touro focuses on bedside manner and patient care like no other college. While it is important to learn the actual medical techniques, it is also crucial to remember that we are dealing with patients who trust us with their care.
Touro has contributed greatly to developing this mindset and mentality. Touro provides excellent training and also cares about its students. The small class size allows us to receive the personalized attention that is essential when learning and mastering important techniques and equipment. Touro SHS insists that bedside behavior is a priority and that the patient should always be the most important person in the room. During my training at Touro, we even engaged in exercises involving medical actors, who represented patients, so that we could hone these skills and be ready to apply them as soon as we entered the real world. This model of enhanced patient care will continue to stand out as I move forward in my career. I still hear the voices of my professors in my head telling me what to look out for as well as key points when physically examining a patient.
What are your favorite and least favorite parts of being a PA?
My favorite parts of being a PA are being part of a dynamic team of providers and helping to facilitate overall patient care. I love being able to create a rapport and build trust with my patients. It's a great feeling when you've seen a patient for a consultation and then they call the office with a question and ask me by name. It shows that they were happy with the care I gave them and want to talk to me as we have built a level of mutual trust.
One of the hardest parts of my job is that it can sometimes be overwhelming because there are so many patients to help. Some cases take longer than others and some patients may need more time to explain a certain condition or medication to them.
How do you reconcile being the father of two children (including a newborn) with a demanding job in the medical field?
Creating a work-life balance is a constant battle. Although I have to take care of my patients, I firmly believe that family always comes first. Despite the fact that my particular job is 9am to 5pm on an outpatient basis, the hours are sometimes longer. For example, if a patient is late or has a more complex problem, their visit will take longer and I will then have to adjust my schedule on the fly. If I have to break someone some bad news based on something we found on a scan, I have to spend some extra time with them to gently break the sensitive news. Although there are days when I don't get home until my kids are asleep for the night, having a support team of family and friends is essential. I treasure the quality time we spend together and want my children to know that it's crucial that they pursue their dreams, like I did, even if it's not easy.
Are there any Touro teachers who left a lasting impression on you?
Touro College truly has an amazing faculty. In fact, I'm still in touch with several Touro faculty members I met along the way because they made a lasting impression and helped me get to where I am today.
The first is Professor Dana Bignami. Professor Bignami is a true role model for anyone wishing to become an AM. She believes in her students, even at times when they don't believe in themselves. When I was in trouble during certain parts of the didactic year. Professor Bignami took me under his wing and never let me go. We've met countless times in his office to discuss key material, review reviews, and talk about medicine in general. She was instrumental in helping me become a childminder and I wouldn't be where I am today without her.
The other faculty member who stood out to me was the program director, Paula Boyle. She is the most approachable program director I have ever met and she always goes the extra mile for her students. Director Boyle worked tirelessly to get us back to our clinical rotations when things were shut down due to the Covid pandemic because she knew how integral these experiences were to our training.
She also made time out of her busy schedule to come before classes began to organize a physical diagnostic clinic. During these clinics, Director Boyle provided us with words of wisdom on performing physical exams and offered us invaluable advice that she learned personally through her ongoing work as a PA practitioner that I do not know. will never forget.